Lodging & Services
Recreation
Cities & Towns
Lakes
Travel Info
Points of Interest
Provincial Parks
Trails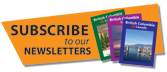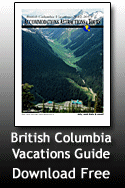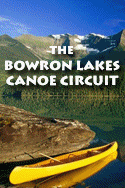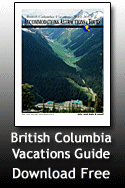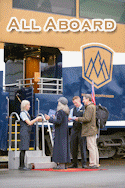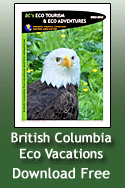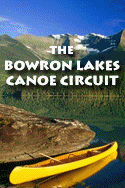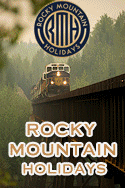 70 Mile House, Lone Butte, Forest Grove, Lac La Hache
Rural Communities of the South Cariboo
Part of the BC Adventure Network. Over a million web site visitors annually !
Click here for a list of accommodation/adventure providers in this area.
---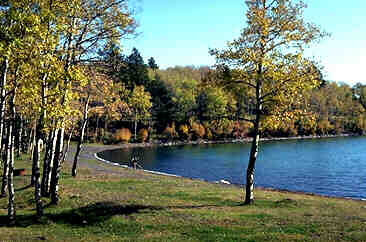 70 Mile House
70 Mile House, British Columbia, located north of Clinton, was one of the first historic roadhouse locations on the famous Cariboo Wagon Road. It now marks the turn off point to the Green Lake and Watch Lake recreation areas.
The road east makes a wonderful backroad circle tour right through to the communities of Bridge Lake and Lone Butte on BC Hwy 24. The surrounding lakes are home to many fishing resorts, guest ranches, provincial parks, and of course a thriving wildlife population.
Some of the best outdoor family vacations in British Columbia can be enjoyed within a few miles of 70 Mile House. Full services, including gas, propane, groceries, dining, accommodations, neighbourhood pub and a post office are available here.
Click here for a list of accommodation/adventure providers in this area.
---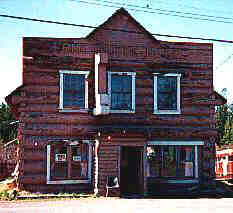 Lone Butte
Gateway to the Interlakes area, Lone Butte is a small community on Hwy 24 about 11 miles east of 93 Mile House. Once one of the Cariboo's largest towns, Lone Butte was a centre for ranchers who settled in the area, from the early 1900's to the 1950's. Cattle were driven here and shipped by rail. The old log Lone Butte Hotel, now gone, used to house many a famous person, including the occassional movie star. All the amenities including a general store, cafe, neighbourhood pub, sporting goods store, craft shop, service station and post office can be found in this friendly south Cariboo village. Resorts and accommodations are available in the surrounding area which features over 50 lakes. The Lone Butte, an extinct volcano core, for which the community is named, is seen to the east. A historic water tower, formerly used by passing steam engines, has been preserved in the townsite.
Click here for a list of accommodation/adventure providers in this area.
---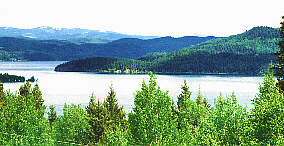 Forest Grove
The small community with the peaceful name of Forest Grove, is about a 20 minute drive from 100 Mile House. Forest Grove is the departure point to beautiful Canim, Ruth and Gotchen lakes. Enjoy first class, full facility lodges, excellent fishing, a provincial campsite, a wide range of exciting adventure activities, and fine dining all within a short drive of Forest Grove. Also found in the Forest Grove vacinity are Hendrix Falls, Deception Falls, Mahood Falls and Flourmill Volcanoes. The community itself offers a general store with groceries, bakery items, dining, and a service station.
Click here for a list of accommodation/adventure providers in this area.
---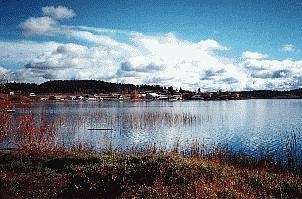 Lac La Hache
When a fur trader dropped his axe into a remote Cariboo lake, he probably never suspected that it would be the basis for the name of La La Hache. "The Longest Town in the Cariboo" is located about 20 km (12.4 mi) north of 100 Mile House on Hwy 97, and stretches along much of the 18 km (11 mi) lakeshore.
The lake is well known for its kokanee fishing as well as it's trophy size lake trout. During the summer months, the area attracts boats, swimmers, and water skiiers. Many resorts, offering camping and cabins are located on the lakeshore, as well as a provincial campground. Close by, Timothy lake is a popular holiday destination. In the winter, Mt.Timothy offers downhill skiing, and the area is a favourite for snowmobiling, cross country skiing and ice fishing. The town of Lac La Hache offers full services including an excellent fly and tackle shop.
Click here for a list of accommodation/adventure providers in this area.
Plan a Vacation

Lodging & Services: more info
Accommodations
Adventures
Attractions
Events
Dining & Entertainment
Shopping
Transportation
Conference Centers
Publications & Media
Recreation: more info
Attractions
ATV
Boating
Camping
Canoeing & Kayaking
Dog Sledding
Fishing
Golf
Guest Ranches
Health/Spas
Cat & Heli-Skiing
Hiking
Houseboating
Mountain Biking
Mountain Climbing
Multisport
Natural Hot Springs
River Rafting
Scuba Diving
Skiing
Snowmobiling
Whale Watching

Regional Information

Cities & Towns Lodging, Hotels, Services & Events . . more info
Lakes Resorts, Cabins, Fishing Info, Maps . . more info

Travel Info Travel Journals, Tourist Info Centers, Weather, Road Conditions, BC Ferries Info, Travel Planner . . more info

Points of Interest . . more info
Provincial Parks . . more info
Trails Hiking & canoeing trails . . more info



---



Advertise With Us
Promote your business on the BC Adventure Network.
BC's largest and most visited tourism Web site . . . more info.
Advertising Inquiries:
advertising@ibcnetwork.com
© 1995 - 2018 Interactive Broadcasting Corporation

Follow Us On Facebook
List of BC Adventure
Advertisers
Site Info
Advertise With Us
Awards
About Us
Contact Us


Free Vacation Guides
BC Vacation Guides
Coastal Vacations
Thompson Okanagan
EcoTourism
Fishing Vacations
Guest Ranch Guide
Romantic Getaways
Wilderness Vacations
Winter Vacations
The Rockies Guide


Login