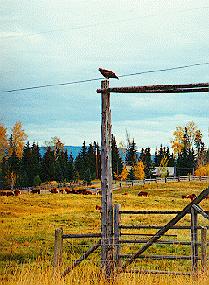 Horsefly, BC
Once called Harper's Camp, the small community of Horsefly, British Columbia, is situated on the banks of the Horsefly River. Horsefly is said to be the site of the first gold discovery in BC's Cariboo region.
Peter Dunlevy, an American, and four friends were led to the Horsefly River by Long Baptiste, an Indian they had met at Lac La Hache. They panned the first gold in June of 1859. Within the day, another party of miners arrived and the Cariboo Gold Rush was on. Dunlevy stayed in the area, building a roadhouse at Beaver Valley. He later opened a hotel at Soda Creek.
---
An important British Columbia salmon spawning stream, the Horsefly River empties into Quesnel Lake at Horsefly Bay where eagles, herons, sandpipers and other wildlife may be observed. Bears are sometimes seen along the river. Be sure to witness the Horsefly's spectacular salmon run in late August & September. Salmon spawning channels have been constructed and visitors enjoy easy access for viewing. Be sure to ask locally for directions to Horsefly River Falls. This picturesque spot is reached by a short hike from the road over well marked trails.
Nearby Horsefly Lake and the South shores of Quesnel Lake offer excellent camping and fishing opportunities. An abundance of smaller highly productive trout lakes dot the landscape.
Plan a circle tour that includes both Horsefly and Likely. A good gravel road runs between them and provides excellent river and lake views.

Accommodation/Adventure Providers
| | |
| --- | --- |
| | Crooked Lake Resort: This is a private & secluded wilderness location, where the peace & silence is broken only by the loon's mournful cry or a lone wolfs soulful howl. Escape to enjoy back-country recreation - or seclusion & solitude. Be our guest for a relaxing stay you'll reme... more |
| | |
| --- | --- |
| | Plato Island Resort: The sunsets have to be experienced … no words can describe the serenity and splendor. We offer excellent fishing on Quesnel lake, camping & comfortable cabin accommodation, a well protected marina, & delicious quality meals. See you soon! more |
| | |
| --- | --- |
| | Rainbow Waters Fly Fishing Adventures: Rainbow Waters Fly Fishing Adventures offers guided fly fishing in the pristine wilderness of the Cariboo Mountains of British Columbia. From diverse stillwaters to Sockeye salmon creeks and rivers, the exceptionally beautiful and unique Quesnel Lake ecosystem... more |


If you would like to have your business listed, please Click Here.

Access: 59 km (37 mi) east of 150 Mile House, BC, off Highway 97 on the Horsefly Road.

Accommodations: Motel rooms are available in the community, as well as several nearby lakeshore cabins and resorts on Horsefly Lake and South Quesnel Lake.