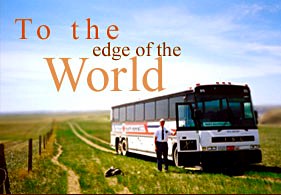 11 Passenger Van is ideal for families traveling to Whistler for a Ski Vacation, shuttle services for corporate executives on a site inspection, transfer services for passengers to meet the main group.
20 Passenger minicoach is ideal for small groups traveling together for day activities, to visit the many areas of the lower mainland. A garden club may charter this vehicle to Laconner to visit the famous Tulip Festival, or other day trips. A couple of families may use this vehicle for Whistler transfers for a ski vacation. Conference organizers find this vehicle ideal for a quick shuttle between Vancouver Hotels and the Vancouver Trade and Exhibition Center. A tour operator will use this vehicle for airport to hotel transfers, and city tours of Vancouver, Victoria, and Seattle. Perfect for residential pickups for a birthday party, and transfers for a group of friends to a dinner cruise.
28/38 Passenger Highway touring Motorcoaches is our most versatile coach in our fleet. We have 6 of these vehicles, and they are very popular amongst midsize groups of 20 to 35 passengers. This coach feature's 4 tables at the rear of the coach, for students to study while traveling to their competitions, parents to socialize, play cards and board games. This vehicle is a converted 47-passenger coach, which allows you the same luggage carrying capabilities of a regular tour bus. Most commonly chartered by ski clubs traveling to Whistler, sport teams traveling to competitions in the Okanagan Valley, Corporate groups for employee team building, friendship groups traveling to Seattle for a Mariners or Seahawks Ball game. Travel agents and tour operators commonly use these vehicles for transfers to Bellingham and Seatac Airports for clients traveling to cruise destinations. Church Groups use this vehicle for youth programs, exchanges, and excursions to Canadian Rockies, Disneyland and Southern California.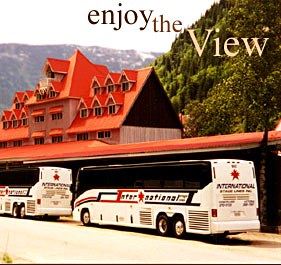 47/56 Passenger luxury highway touring motorcoaches are the workhorses of our fleet, as they prove to be the most cost effective way to travel as a group. When you have 35 or more passengers traveling together these vehicles are ideal. Both coach types feature the most modern amenities, individual reclining seats, washroom, interior luggage compartments, air conditioning, public address system, and panoramic windows for viewing the spectacular sights of British Columbia and the Canadian Rockies. DVD Players on all the coaches keep the kids and the parents entertained as they travel as a team to a competition. These vehicles meet the demands of corporations and tour companies extending their key individuals and clients a vacation to remember. The luxury and amenities of these coaches, assure a relaxing and comfortable drive. A city tour through Vancouver or Victoria, transfers along the sea to sky highway to Whistler, Transfers from Seatac to Vancouver to meet an Alaskan Cruise to a journey through the wonderful mountain ranges of the Canadian Rockies and Western USA. It is our drivers that will help to ensure the overall success of the journey, they will assist the group leader in confirming the daily schedules, they will bring knowledge to the areas and the travel routes to choose from, with their skills of safety in operating the vehicle will ensure a wonderful journey.
As Western Canada's leading charter motor coach operator, International Stage Lines welcomes you to a world of travel. Remember with International Stage Lines, careful attention is given to each charter to assure a comfortable journey, and rewarding experience.
---
INTERNATIONAL STAGE LINES
Website:www.islbus.com
Email: info@islbus.com
Telephone: (1) 604-270-6135
BC Toll Free: 1-800-667-2778
Fax (1) 604-270-8162
Mailing address:
4171 Vanguard Road
Richmond, BC V6X 2P6